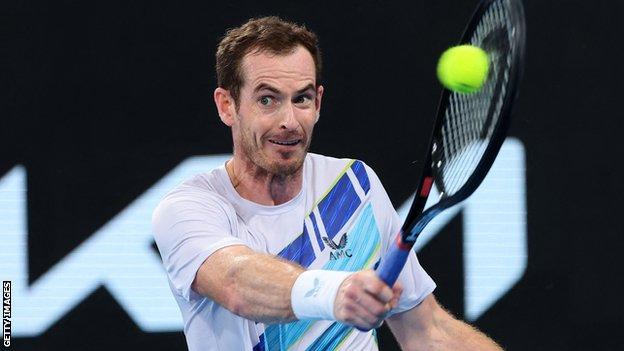 Brit Andy Murray reached his first ATP Tour final since 2019, winning the Sydney Tennis Classic over Reilly Opelka in three sets.
The 34-year-old fought from the set and defeated the 25th American in the 6-7 (6-8) 6-4 6-4.
Murray let out a triumphant roar after turning his first swordball.
If compatriot Dan Evans defeats the best Russian seedman Aslan Karacev in the second semifinal, it will be the first All-British final at the ATP Tour level.
This is the first final Murray has reached since the 2019 European Open, where he made his mark emotional victory over Stan Wawrinka.
It was Murray's 46th ATP title and is his only singles trophy since he underwent hip surgery in January 2019, which saved his career.
"It would be great to start the year with the trophy, but it's been a big week for me," Murray said in an interview on the court.
"Putting the four results together like this is a lot more than I did last year."
Murray is preparing for the Australian Open from Monday, where he will face the 21st Georgian baseball Nikoloz Basilashvili in the first round.
He is now ranked 135th in the world after dealing with unpleasant injuries in the last two years, but has moved well in all of his matches in Sydney.
Murray was visibly frustrated when he let the lead slip 5: 1 in the tie-break of the first set against the great Opel.
However, his return was excellent, as he broke Opelka early in the second set to eventually force a decision.
Murray was unable to turn four breaks into Opelka's hands until he finally found a way and served the match in love.
"I lost a tight first set and it's not easy to go back against someone who serves like this, but I love competition," Murray added.